MARLBOROUGH SOUNDS – FEATURING THE STOKED WOOD FIRED BATH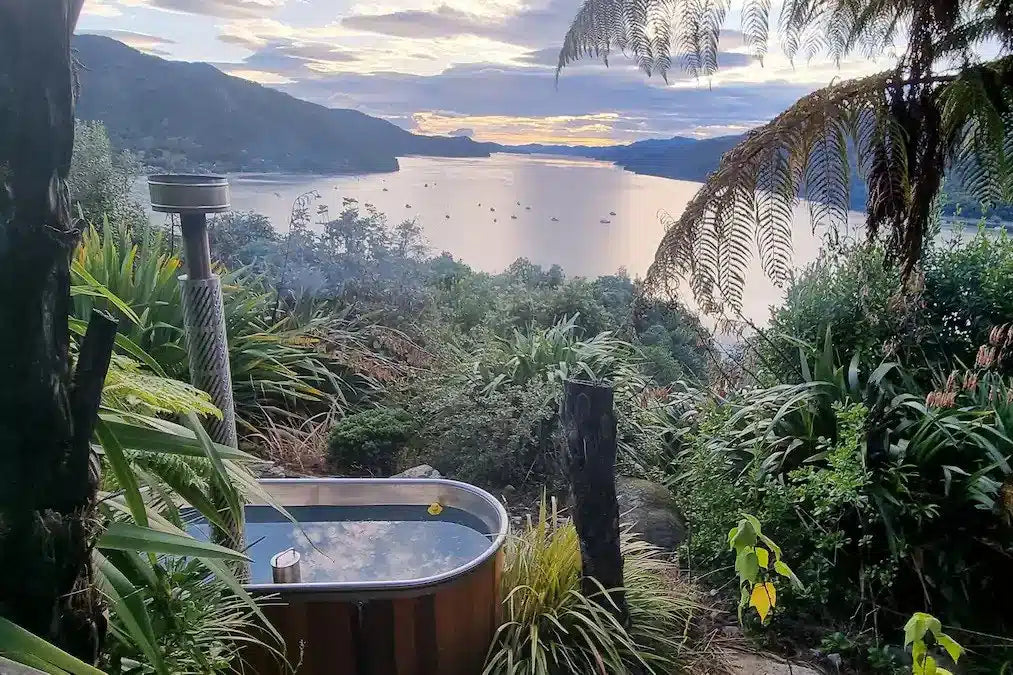 Tucked away in the breathtaking beauty of New Zealand's Marlborough Sounds, you'll find the cosy village of Anakiwa and a special off-grid home that offers a chance to unwind and connect with nature. As you enter this sanctuary, you'll be treated to breathtaking vistas of the Queen Charlotte Sound from every angle of the open-plan living area. The perfect balance of roominess and comfort creates the ideal atmosphere for your serene getaway.
SENSORY SOOTHING: THE STOKED WOOD FIRED BATHTUB
In the midst of tranquil surroundings, Stoked Stainless introduces a captivating highlight: the two-person outdoor wood-fired bathtub. More than just a soak, it's a genuine embrace of nature. Picture yourself basking in the warmth of the water, enveloped by Anakiwa's pristine beauty. This tub brings a touch of indulgence and a hint of excitement to your retreat, crafting a sensory journey that lingers well beyond your time in the water.
COSY COMFORT INDOORS AND OUT: UNWINDING IN NATURE'S EMBRACE
When the call of the outdoors subsides, the indoor fireplace becomes your cosy retreat of warmth and solace. It's the perfect spot to snuggle up with a captivating book, enjoy a steaming cup of your favourite drink, and bask in the calming sounds of crackling flames. Embrace the indoor fireplace as your haven for crafting tranquil moments, offering a peaceful setting to relax and detach from the hustle and bustle of daily routines.
ANIKAWA'S CHARM
Step outside and discover the captivating natural beauty that envelops you. Lounge on the inviting front porch or unwind in the outdoor hammock oasis. A convenient barbecue setup adds a touch of outdoor culinary delight. Immerse yourself in sunrises, the melodies of birdsong, and leisurely strolls through picturesque surroundings. Positioned near the serene water's edge, this retreat presents an opportunity to embrace the unspoiled allure of the Marlborough Sounds, providing a tranquil backdrop for moments of introspection and renewal.
MARLBOROUGH SOUNDS – A NATURAL INSPIRATION
Nestled in New Zealand's embrace, the Marlborough Sounds is a haven of natural wonder. Its tranquil waters and lush forests are a canvas for inspiration, where the whispers of the breeze and the dance of the waves stir creativity. A symphony of colors and textures, this place ignites the spark of imagination, inviting you to lose yourself in its beauty. And don't forget, a 4WD vehicle is recommended for your journey to the retreat, adding a dash of adventure to your arrival and making sure you're all set for the off-grid experience.
EMBRACE THE RETREAT
As you contemplate your next escape into tranquillity, consider the allure of Anakiwa and the inviting embrace of the Stoked Wood Fired Bathtub. It's a chance to indulge in sensory pleasure and reconnect with nature's wonders. Stoked Stainless invites you to embrace this unique blend of comfort and adventure, whether you're seeking a brief respite or a longer getaway. Your journey to Anakiwa's tranquil retreat begins with a simple step—one that promises a wealth of unforgettable memories.
ABOUT STOKED STAINLESS
At Stoked Stainless, we specialise in crafting stainless steel hot tubs, spa pools, plunge spa pools, and bathtubs, all elegantly clad with cedar wood. As trailblazers in the art of crafting stainless steel tubs in the Southern Hemisphere, we carefully choose the highest quality materials to lovingly handcraft our products, offering you a lifetime of relaxation and enjoyment.
---